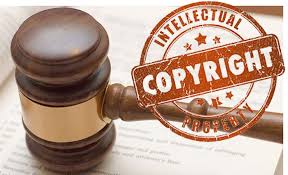 Hak kekayaan Intelektual atau disingkat HKI adalah istilah yang dipergunakan untuk merujuk kepada seperangkat hak eksklusif yang masing-masing diberikan kepada seseorang yang telah menghasilkan karya dari olah pikirnya, yang memiliki wujud, sifat atau memenuhi kriteria tertentu berdasarkan peraturan perundang-undangan yang berlaku.
Baik "Hak Kekayaan Intelektual" maupun "HKI" sebagai bentuk penyingkatannya merupakan padanan baku dan resmi dalam Bahasa Indonesia untuk istilah "Intellectual Property Rights" atau "IPR", sebagaimana dipergunakan dalam beragam aturan perundang-undangan serta penamaan untuk unit teknis negara yang diserahi tanggung-jawab untuk menyelenggarakan sistem pemberian dan pengelolaan HKI, yaitu Direktorat Jenderal Hak Kekayaan Intelektual.
Hak Kekayaan Intelektual atau HKI tidak merujuk pada salah satu jenis hak eksklusif semata, melainkan sebuah "payung", umbrella term, untuk menaungi beragam jenis hak eksklusif yang masing-masing memiliki karakteristik, ruang lingkup dan sejarah perkembangannya sendiri-sendiri
Tentu tiap manusia memiliki karya maupun memiliki jiwa intelektualitas yang harus dilindungi.
Sistem HKI merupakan hak privat ( private rights ), yang merupakan ciri khas HKI. Seseorang bebas untuk mengajukan permohonan atau mendaftarkan karya intelektualnya atau tidak. Hak eksklusif yang diberikan Negara kepada individu pelaku HKI (inventor, pencipta, pendesain dan sebagainya) tiada lain dimaksudkan sebagai penghargaan atas hasil karya (kreativitas)nya dan agar orang lain terangsang untuk dapat lebih lanjut mengembangannya lagi, sehingga dengan sistem HKI tersebut kepentingan masyarakat ditentukan melalui mekanisme pasar. Di samping itu, sistem HKI menunjang diadakannya sistem dokumentasi yang baik atas segala bentuk kreativitas manusia sehingga kemungkinan dihasilkannya teknologi atau hasil karya lainnya yang sama dapat dihindarkan/dicegah. Dengan dukungan dokumentasi yang baik tersebut, diharapkan masyarakat dapat memanfaatkannya dengan maksimal untuk keperluan hidupnya atau mengembangkannya lebih lanjut untuk memberikan nilai tambah yang lebih tinggi lagi.
Badan internasional yang mengurus masalah HKI adalah World Intellectual Property Organization (WIPO), atau badan khusus PBB, dan Indonesia termasuk salah satu anggotanya dengan diratifikasinya Paris Convention For the Protection of Industrial Property and Convention Establishing the World Intellectual Property Organization.
Pada saat ini, HKI telah menjadi isu yang sangat penting dan mendapat perhatian baik dalam forum nasional maupun internasional. Dimasukkannya TRIPS dalam paket persetujuan WTO di tahun 1994 menandakan dimulainya era baru perkembangan HKI di seluruh dinia. Dengan demikian pada saat ini permasalahan HKI tidak dapat dilepaskan dari dunia perdagangan dan investasi. Pentingnya HKI dalam pembangunan ekonomi dan perdagangan telah memacu dimulainya era baru pembangunan ekonomi yang berdasrkan ilmu pengetahuan.
Jenis-Jenis Hak Kekayaan Intelektual
Hak Paten
Hak Merek
Hak Desain Industri
Hak Indikasi Geografis
Hak Varietas Tanaman
Hak Desain Tata Letak Sirkuit Terpadu
Hak Rahasia Dagang
Hak Cipta
Hak lisensi dan Waralaba
Banyak sekali Kekayaan Intelektual yang harus dilindungi. Kesemua hak tersebut terbagi menjadi dua jenis yaitu Hak cipta (Copyright) dan Hak kekayaan industri yang mencakup hak paten, hak desain industri, hak merek, hak desain tata letak sirkuit terpadu, hak rahasia dagang, hak penanggulangan praktik persaingan curang, dan hak perlindungan varietas tanaman. HKI adalah hak ekslusif yang timbul dari hasil olah pikir yang menghasilkan suatu karya atau produk yang perlindungannya bersifat teritorial atau perlindungannya hanya berada dimana tempat itu berada. Penjelasan dari adanya perbedaan yang mendasar dari setiap Hak Kekayaan intelektual adalah menjaga atau memberikan sebuah penghargaan dan memberikan sebuah perlindungan kepada orang yang menciptakannya.