Siapa yang tidak kenal dengan Negara Jepang? Tentunya, semua orang sudah tidak asing lagi dengan nama Negara tersebut. Masyarakat Jepang terkenal memiliki kedisiplinan dan pengelolaan waktu yang baik. Itulah mengapa banyak Negara yang selalu menjadikan jepang sebagai panutan dalam bekerja atau beraktifitas. Namun, tahukah Anda bahwa puluhan tahun lalu, orang Jepang dikenal sangat santai dan suka mengulur-ulur waktu?
Mengutip pendapat Williem Huyssen dalam Asti Musman, (2019), orang Jepang dikenal sangat santai dan kurang bisa menepati janji. Begitu masuk kantor, orang jepang tak lantas mengerjakan pekerjaannya, namun cenderung melakukan aktivitas lain yang menghambat produktivitas, misalnya seperti bergosip, merokok, berlalu lalang di koridor kantor, ke toilet dan lain-lain. Intinya, aktivitas yang dilakukan orang Jepang zaman dahulu cenderung tidak efisien dan sangat lambat dalam optimalisasi progress.
Namun, apa yang terjadi puluhan tahun berikutnya?
Tentu saja orang Jepang mengalami perubahan sikap dan kebiasaan yang sangat mencengangkan. Hal ini karena orang jepang telah mengalami proses pendisiplinan yang ketat selama berpuluh-puluh tahun. Sehingga, hal ini membentuk karakter yang super disiplin dan menghargai setiap detik waktu yang terlewat. Lalu, apa saja prinsip kerja yang dipegang oleh masyarakat Jepang? Mari simak penjelasannya di bawah ini: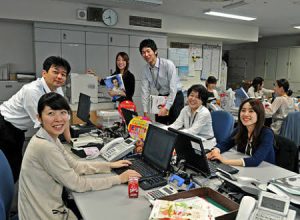 1. Bushido
Dalam bahasa Jepang, bushido memiliki arti "ksatria". Jika dilihat dari pengertiannya, bushido merupakan kode etik yang dipegang teguh oleh golongan e di zaman feodal Jepang. Seorang ksatria Jepang mempunyai dedikasi dan loyalitas yang tinggi terhadap tuannya. Bahkan, mereka termasuk golongan orang yang relah melakukan hara-kiri demi mendapatkan kehormatan atau derajat yang telah hilang.
Rupanya, prinsip bushido ini juga telah mengakar dalam semangat kerja di kalangan masyarakat Jepang. Umumnya, mereka mempunyai pengabdian dan loyalitas yang tinggi pada perusahaan atau tempat kerjanya. Masyarakat Jepang juga cenderung merasa penuh hormat dan menerapkan totalitas dalam setiap pekerjaan yang dilakukannya. Maka tidak heran jika anda lebih sering menjumpai pegawai yang bekerja selama puluhan tahun di sebuah perusahaan atau tempat kerja. Jarang diantara mereka yang menerapkan prinsip kerja dengan berpindah-pindah perusahaan, karena sudah jelas bahwa masyarakat Jepang mempunyai dedikasi yang tinggi terhadap perusahaan yang diikutinya.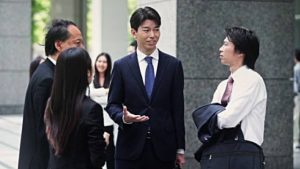 2. Makoto
Makoto merupakan sebuah konsep moral yang diinisiasi oleh masyarakat Jepang. Makoto juga sering diartikan sebagai prinsip kerja yang mengedepankan ketulusan atau kejujuran. Realisasi makoto terwujud dengan bekerja keras dan tetap menjaga semangat dan ritme kerja. Selain itu, prinsip kerja ini juga mengedepankan ketulusan dan kejujuran, baik dalam perkataan maupun perbuatan.
Jadi, bisa dikatakan bahwa makoto termasuk salah satu filosofi yang diterapkan sebagai etos kerja oleh masyarakat Jepang. Walaupun zaman telah berubah dan generasi terus berganti, akan tetapi nilai atau prinsip ini tetap dipegang teguh oleh orang jepang, meskipun itu dari generasi muda atau milenial.
3. Keishan
Bisa dibilang, keishan tidak berbeda jauh dengan prinsip kerja kaizen. Keishan juga menjunjung tinggi sikap inovatif dan produktif di setiap pekerjaan yang dilakukan. Perlu diketahui bahwa orang jepang tidak takut untuk memulai sesuatu yang baru sebagai wujud pengembangan inovasi dan kreativitas diri.
Kemampuan untuk menciptakan sesuatu berdasarkan ide dan inovasi tentu menjadi aset berharga di masa globalisasi saat ini. Di era keterbukaan informasi ini, orang cenderung mencari sesuatu yang unik dan berbeda dari yang lain, namun tetap bisa memenuhi kebutuhannya.
Inilah yang dinamakan prinsip kerja keishan yang membuat orang Jepang mampu menciptakan berbagai karya dan teknologi inovatif. Hal ini karena orang Jepang senantiasa mengandalkan pemikiran yang out of the box, sehingga menjadi penemuan tersendiri yang diakui oleh dunia.
4. Kaizen
Kaizen termasuk prinsip kerja yang kuat dan dipegang teguh oleh masyarakat Jepang. Dalam pelaksanaannya, kaizen menekankan kefokusan dan ketepatan waktu dalam mengeksekusi pekerjaan. Sehingga, bisa dikatakan bahwa masyarakat Jepang tidak suka menunda-nunda waktu pada suatu aktivitas yang telah dijadwalkan. Singkatnya, prinsip ini meyakini bahwa "jika segera dilakukan, maka pekerjaan segera cepat selesai".
Dalam praktiknya, kita tentu jarang mengetahui ada orang Jepang yang telat datang ke kantor atau terlambat menghadiri janji bertemu dengan klien. Mereka akan cenderung merasakan malu yang teramat sangat apabila sampai melakukan hal yang demikian.
Mengingat, dedikasi mereka akan dinilai rendah dan kesempatan untuk meraih kepercayaan dari klien atau teman sesama kantor akan berkurang. Intinya, keterlambatan dalam segala hal akan menghasilkan kerugian bagi karir diri sendiri, perusahaan maupun konsumen.
Itu dia penjelasan singkat terkait prinsip kerja orang Jepang yang perlu ditiru dan diterapkan di lingkungan kerja.
Tentunya, keempat prinsip tersebut dapat meningkatkan efisiensi dan efektivitas kerja. Selain itu, hal ini juga dapat memberikan kontribusi yang lebih besar dalam memajukan perusahan.